2019's New Audi Tt Coupe Review: The Best Tt Yet?
The latest Audi TT Coupe packs everything a modern coupe should: speed, power & head-turning looks… but is it enough? Tom Roberts shops in the vans & returns to Motorama.com to deliver his verdict.
Everyone has a 'halo car', that first nice car you wish was still parked outside your house – for me, it's the Audi TT 3.2l Mark 1 Coupe. It went like hot whatever off a shovel & I loved how it made me feel when I drove it – & I loved the reactions when people SAW me driving it (my TT was bright red, loud & fast – I stood out a bit).
That's why I feel like I'm in a good position to tell you if this version – the latest Audi TT Coupe S Line – stacks up against its older brother & still has that TT sparkle. Drum roll… it does, but not for the reasons you're expecting.
The only thing I knew before I got in was that Audi claims a 0-62mph time of 5.2sec. I was eager to find out if this was true!
FirsTT Impressions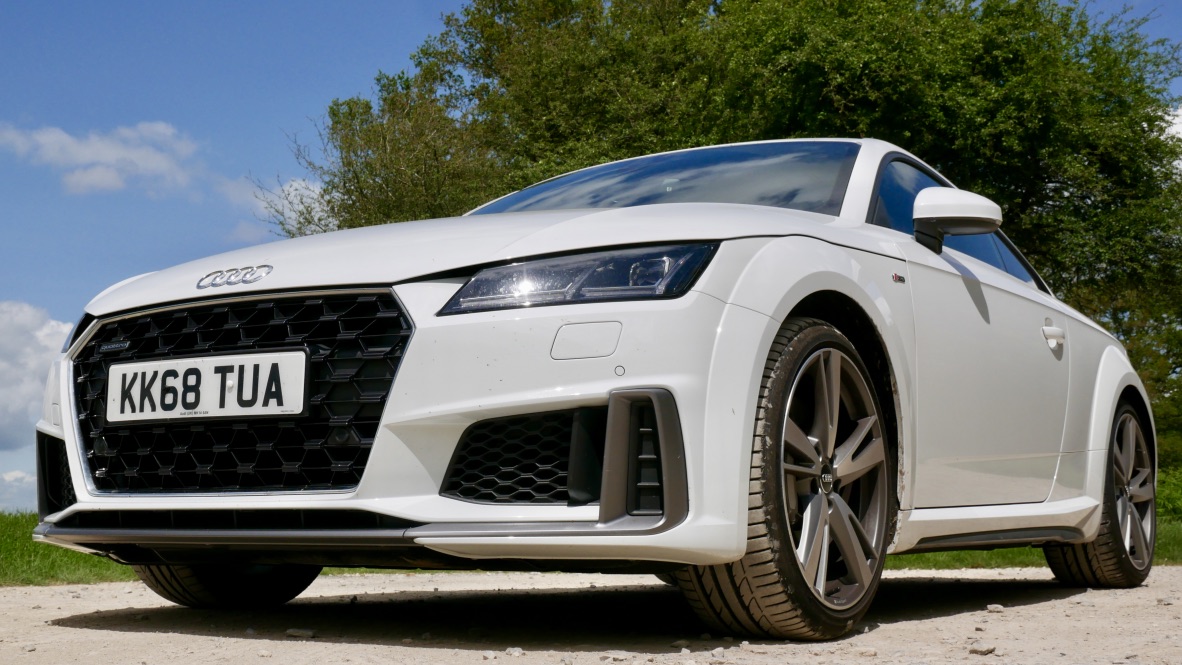 It's a great-looking car, they always have been. The latest model sits lower to the ground than older TTs with a slightly longer profile, & as a fan of the more rounded earlier TT body shapes I wasn't sure I would like the angular bodies of the current gen, but it looks mean like a shark.
The Audi rings sit on the edge of the bonnet above the new grille (taking some cues from the fearsome RS), the headlights are razor thin & there are the usual 'are they real' air scoops on top of the splitter. From the side I just stared at those huge shiny brake discs visible through the open alloy wheels – they look so cool. The back end is only slightly higher than the front with a diffuser between two exhausts & even a flip-up spoiler at the top that I wish the old TTs had!
So, it's sleek, sporty & covered in nice details… my first impressions were that if it drives as good as it looks, I'm in for a treat! & that's exactly what I got inside.
GeTTing Inside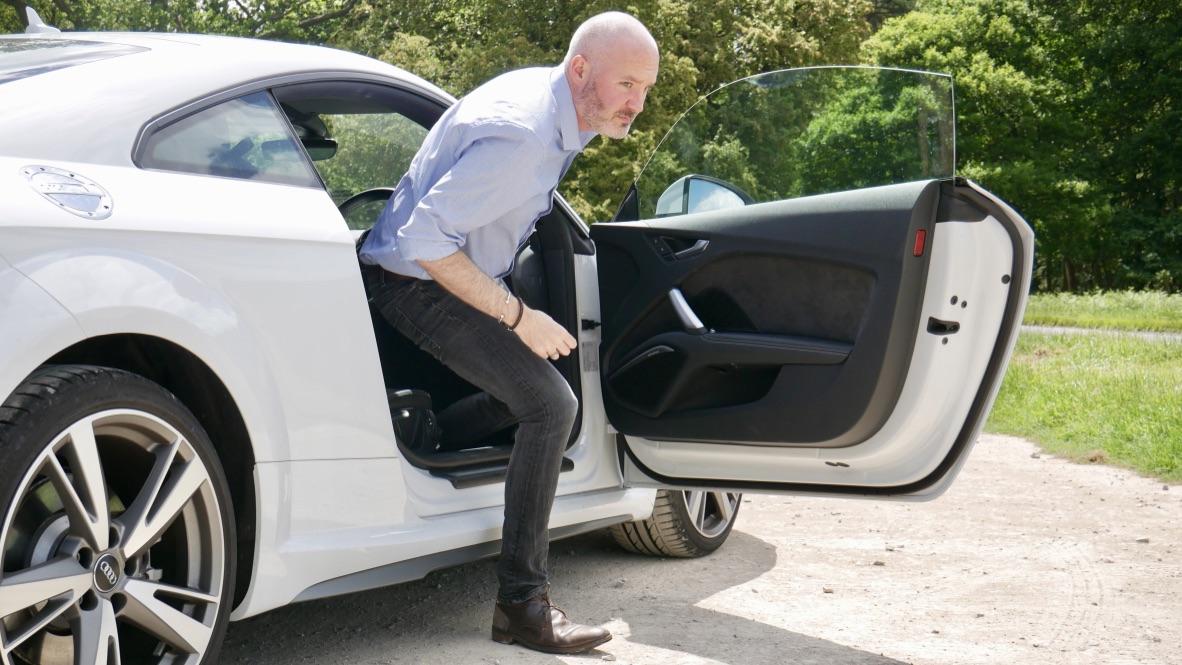 The doors are smaller & less heavy than previous TTs (there's obviously been a serious weight reduction effort), & the S Line trim level adds another nice detail in the shape of a metal foot plate on the door sill so you don't damage it when you get in and out.
TT entry instructions: watch your head on the roof, watch your knees on the steering wheel, squeeze in a bit awkwardly, get comfy, fail, sort out seat height, push it back all the way, relax, etc. Hey, it's a low-set sports car, what d'you expect?
Once you're there though, the interior is incredible. It's all brushed metal, hard-wearing sporty black plastics & soft leather coverings – perfect! The leather sports seats, all supportive and deep are so comfortable. It does have back seats but don't worry about them, this is really a 2-seater.
Audi has always been good at interiors – there's no change here!
Tech, KiTT & Engine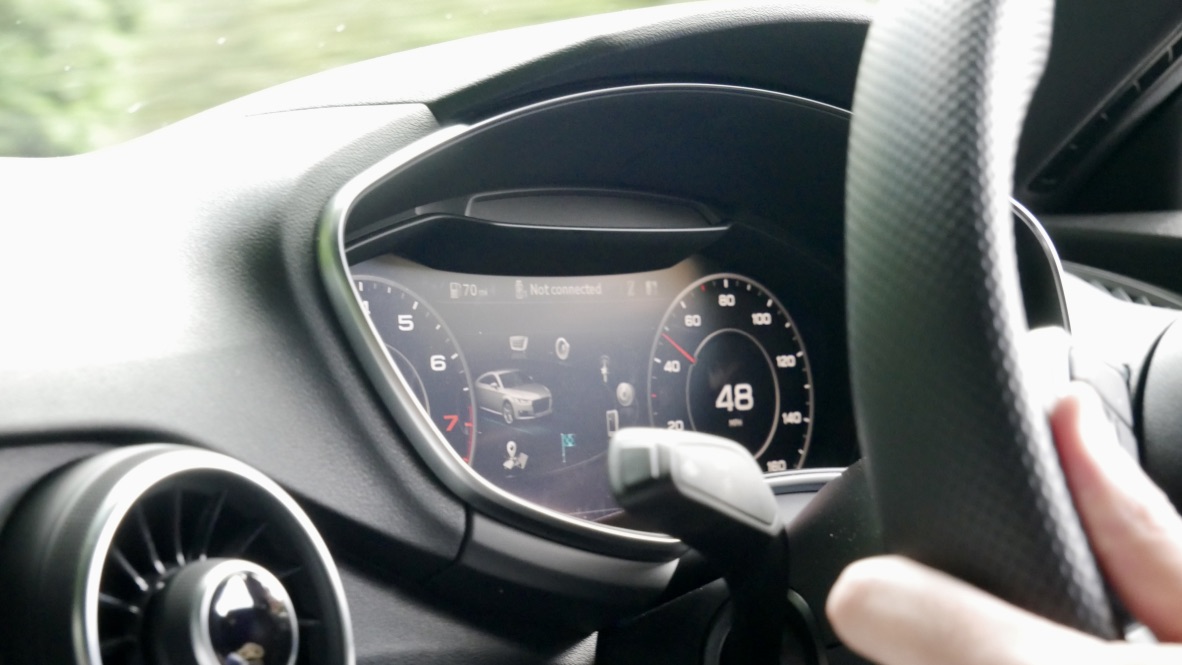 Where to start?! The dashboard display is amazing, fully digital with the rev counter & speedo snapping in & out of view depending on what you want to see. When you use sat nav, for example, the counters shrink aside & the dash display shows you the map.
But let's talk engines… say goodbye to the old 1.8-litre engine and hello to the 40 TFSI (a detuned version of the 2.0-litre found in pricier models). I mentioned earlier that Audi stated a 0-62mph time of 5.2sec – it's true, I felt like I'd engaged warp speed when I put my foot down!
Power is up to 194bhp (!) and there's no manual gearbox available anymore meaning you let the gearbox do its thing, but it was a fast shifter through the gears and the steering was incredibly precise! I didn't once feel out of control, even while paddle shifting – just another reason why you must love Audi's quattro system.
I threw this beast round tight corners, felt little to no fuss from the tyres, and was easily able to come firing out of the corners accelerating hard. It was so balanced and so much fun – I can't remember the last time I had this much fun driving!
VerdicTT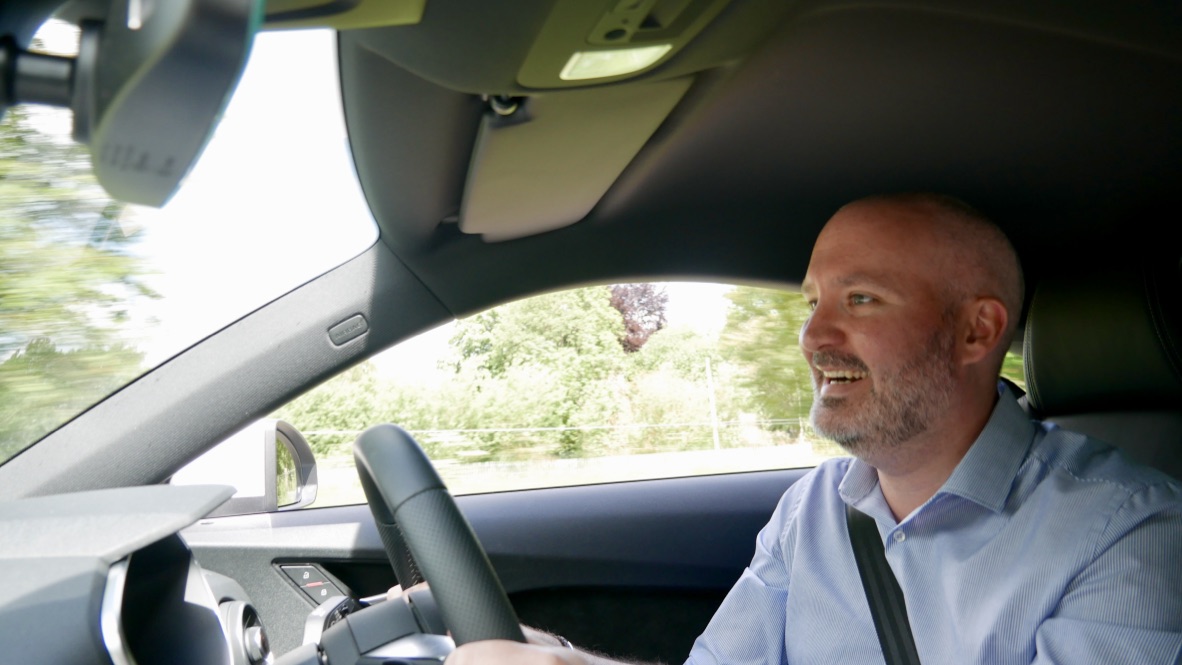 It's an Audi TT, so being fast, good-looking & capable of holding its own on the tightest corners you can throw it at isn't a shock. What IS a shock is how much you get for your money!
You want to know if you should lease this car… well, the Audi TT Coupe 40 TFSI S Line 2dr S Tronic kitted out with Audi's Tech Pack made me feel like my younger self when I used to drive my own TT, I smiled like a Cheshire Cat.
THAT'S how driving a powerful sports car SHOULD make you feel. 'Nuff said.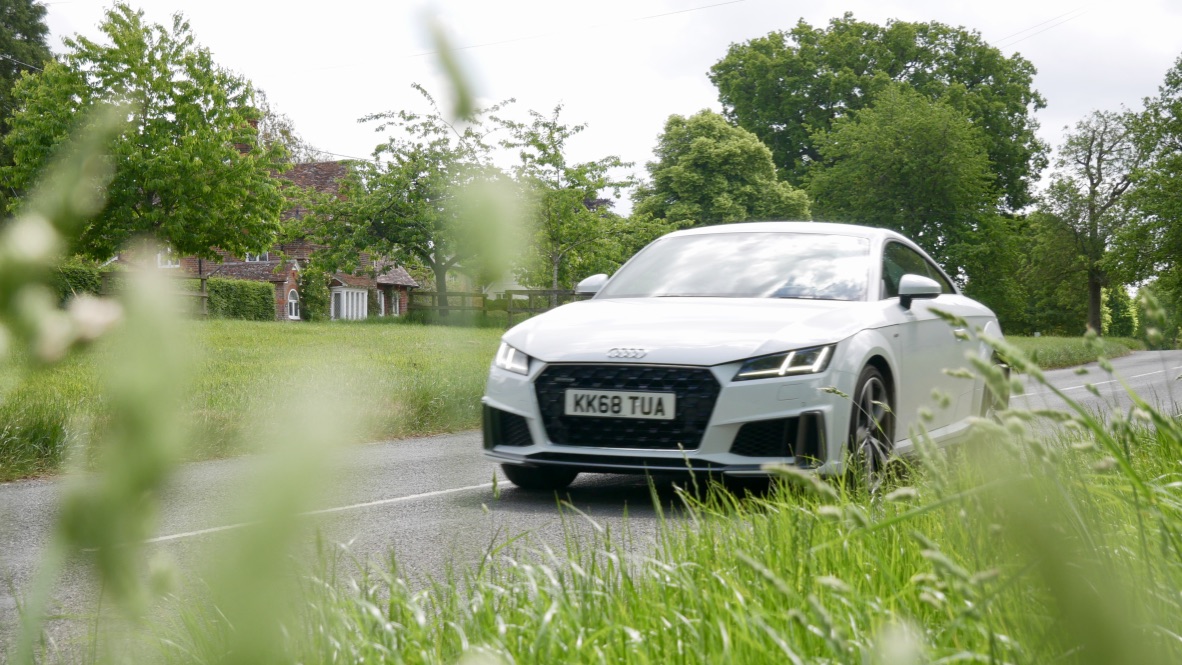 ---