Bmw 1 Series: Family Hatch or Sports Car?
The BMW 1 Series is perfect for work and play
BMW even refer to their 1 Series as a 'stylish athlete' and it's no surprise they do because this car is a top performer when it comes to speed and style. The BMW 1 series is available in its basic SE model (it's far from basic) and a powerful M140i version. Think of this car as the Usain bolt of BMW's, need we say more?
Got your seatbelt on?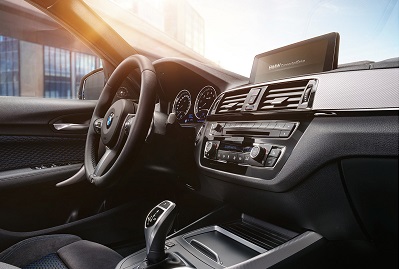 If you haven't got your seatbelt on buckle up because you're in the driving seat.
The BMW 1 Series is a hub of comfort and technology, if you want to know why keep reading. So, sit back, relax and let us give you a tour of the cabin…
As far as the dash goes, the BMW 1 Series is a thing of beauty. All models feature the latest BMW navigation system with iDrive 6 software, a leather multi-functional steering wheel and Bluetooth connectivity. If it's not tickling your fancy don't worry because it's got more to offer…
You also get multi-mode Drive Performance Control (DPC), front fog lights, air con, a speed-limiting function, DAB radio, rain sensor and automatic lights as standard.
And, if you think that's it, you're wrong…
Now this is where the tech spec for the 1 Series gets clever. The BMW Connected app allows you to check your fuel level and lock or unlock the car remotely using your phone, now that's impressive. And, voice control is available in certain models. Is this really a car? It's starting to sound like a description for a new iPhone.
As you can see, the 1 Series certainly packs a pretty good punch when it comes to extras.

In the back
The BMW 1 Series really does feel like the friendliest hatchback for families, want to know why?

You've got the option of a 3-door or 5-door model, but 5 doors are better than 3 when you have kids. For starters, there will be no quarreling to who gets out first because there's a door for everyone. I mean, we can't promise that there won't be any arguments on the way to school but, it's one less thing to worry about.
When you enter the back expect loads of headroom, which is great if you've got teenagers who haven't stopped growing yet. And, there's Isofix mounting points - perfect if there's a baby in your family.
The boot space is family-friendly too. Its loading capacity of 360-litres is 30-litres more than its older model. The boot's low lip is an added bonus, making it easier to lift those bulky school bags in and out.

Need for speed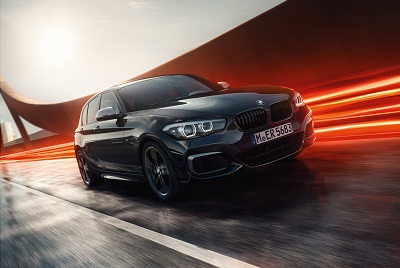 If you want to feel like you're on the set for one of The Fast and the Furious films, this BMW will blend in beautifully. It brings some serious performance to the table where other BMW's from its range are seated. Its light, responsive steering is perfect if you're revving up power.
But, don't worry it's completely capable as a family car too. The rear-wheel drive makes for an agile, road-hugging experience. And, can we just point out that the BMW 1 Series is the ONLY hatchback with rear-wheel drive!
If you want to feel sporty in the 1 Series you can shift the driving mode to sport, or if you're dropping the kids to school change it up to comfort. It's great if you want to save fuel too, there's an ECO PRO mode and all engines are stop start. Is it just us who think the 1 series is great at everything? Why don't you get one and see for yourself!
Engines? well, there's two to choose from. The 1.5-litre turbocharged three-cylinder petrol engine is a bit of a mouthful to say but, it's impressive. It's the one you want to pick if you're not looking for the fastest version. Don't get us wrong, it's still fast but it isn't the fastest, so think of it as more family-friendly. If you want speed, the 3.0-litre six-cylinder turbocharged M140i is the speedy Gonzalez from the BMW hatchback line up. It reaches 0-62mph in an eye watering 4.6 seconds.

It's a family hatchback and a sports car
Want a car that's suitable for dropping the kids to school AND for a weekend drive? The 1 Series is sensible and sporty. What's that saying… work hard play harder? Go on let your hair down and lease the BMW 1 Series.
Want to know more about leasing? Read our PCH leasing guide.
Got a question? We bet the answer is in our FAQs.
View our BMW 1 Series lease deals.
---