Looking for an electric car? Here's why the Jaguar I-Pace is best
With the ban on diesel and petrol car sales potentially being brought forward to 2032, in a bid to kickstart the Government's ambitious vision for a zero emissions future, there has never been a better time to lease an electric car. And, especially when you can go for something as good-looking as the Jaguar I-Pace! Motorama's Laura Day reports.
The Jaguar I-Pace has been named The Sunday Times Car of the Year, as well as the Green Car of the Year too.
It's defined a new segment – the premium electric SUV! And, while the I-Pace may not be faster than a Tesla, the I-Pace is about so much more than just acceleration. It's everything else that it brings to the table too…so, let's take a closer look at why the I-Pace excels.
An electric car built around you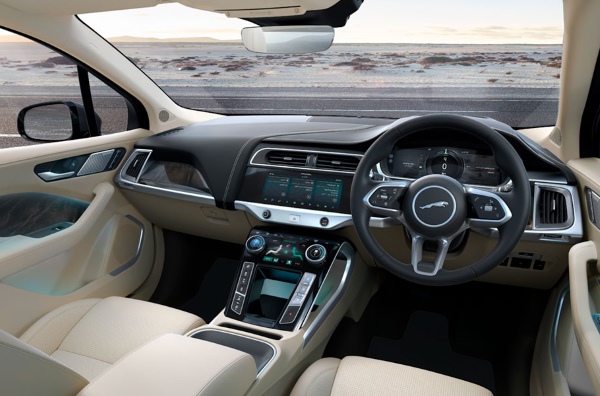 Jaguar knows exactly how to impress their customers. Everything inside the I-Pace is perfectly designed to make driving it a pleasure.
With the starter button located to the left of the centre console, all you need to do is hit the D on the drive select and you're away! And, just like all electric cars the I-Pace speeds off in (almost) silence, meaning you'll never have to listen to that annoyingly-loud purr of an engine ever again.
With a decent range of 292 miles and acceleration from 0-60mph in 4.5 seconds, the I-Pace is a top-spec, zero emissions SUV that just delivers. Described by The Sunday Times as combining "thrilling performance with a reassuringly impressive range". The I-Pace is a car that does the hard work for you so that you can focus on the important stuff…like trying to remember that 'thing' your boss asked you to do at work yesterday!
Practically perfect in every way
Upmarket interior has and always will be a given when it comes to Jaguar cars. Gloss black panelling and leather-trimmed tops? The I Pace has got them! How about sleek and futuristic digital touchscreens? Check!
You name it – the I-Pace has got it all. And, as for room inside it's got plenty of room in the front and the back for you, your friends and family to comfortably enjoy any journey. The boot is even packing in space, with the ability to swallow a whopping 656 litres of luggage.
Convenience is key and a fundamental design element for Jaguar. That's why if you opt for the extra Head-Up Display, this presents you with key vehicle data (such as your speed and navigation directions on the windscreen), featuring clear full-colour graphics in high resolution.
And, while we're talking about convenience, the 12.3" high-definition Interactive Driver Display provides relevant driving information, including screen navigation with 3D mapping, only enhancing the driver's experience behind the wheel.
A helping hand
With an impressive range of safety tech, such as adaptive cruise control, emergency brake assist, lane departure warning, blind spot monitoring and traffic sign recognition technology. The I-Pace is fully kitted out and ready to brave the roads.
The I-Pace batteries are positioned beneath the floor, giving the car a low centre of gravity, as it's claimed to have a 50/50 weight distribution front to rear. The battery is also capable of charging to 80% in 40 minutes from a 100kW DC rapid charger, with a full charge from a 7kW home wallbox taking just under 13 hours.
The I Pace also boasts adaptive air suspension (lowering the car beyond 65mph for a more aerodynamic stance and it can raise it at low speeds for greater ground clearance).
The verdict: A desirable, good-looking EV that delivers on all fronts
With its first all-electric model, Jaguar has set the bar high for anything that comes after it.
The best bit? Driving an I-Pace is like driving a little slice of the future, and with inevitable ban on sales of petrol and diesel cars being brought forward to 2032, the world domination of electric cars is imminent. It's no longer a case of 'if' it will happen, it's now a case of 'when'.
Would you like to lease a Jaguar I-Pace now? Silly question.
Find out more about leasing by reading our car leasing guide.
Got a question? We bet the answer is in our FAQs about car leasing.
Take a look at our cheapest car leasing offers.
---