The Bmw 3 Series Is a Sporty Saloon... But How Sporty?
Sporty and sophisticated
The latest BMW 3 Series (G20) is the 7th incarnation of this popular model. It's a sporty yet elegant revamp of a classic which doesn't fail to deliver on looks or performance, no wonder it's BMW's best-selling model and What Car's Executive Car of 2019.
Practical and easy on the eye - it should be top of your list if you're after a compact saloon that performs well. As for optional extras, we could stand here all day reeling them off. You know you're always going to get great reliability, safety and quality from BMW. And you're bound to get admiring glances because who wouldn't want to be driving this beautiful BMW?

Sit back and relax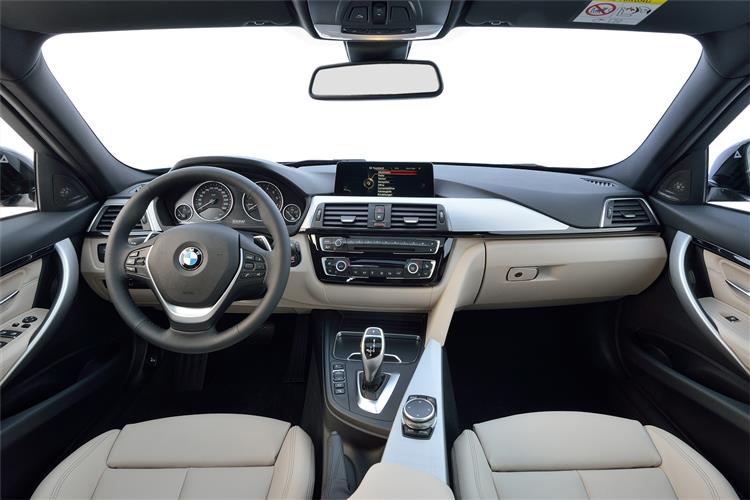 It's back and it's better.
The interior of the new BMW 3 Series has had an obvious upgrade since the last model. Not only does it look good, but it feels great!
Its stylish interior features touches of chrome, ambient lighting and heated front seats. There's nothing like a warm derrière on a frosty morning!
The 3 Series comes with a long list of extras and they all come as standard…
Touchscreen sat nav (8.8-inch on the SE and Sport models, 10.25-inch on the M-Sport)
Bluetooth
USB sockets
Apple CarPlay
Rain sensor
Automatic headlights
DAB radio
Tyre pressure monitoring
Keyless stop-start
Parking sensors
Parking assistant with a reversing camera
If that's not enough it'll even call the emergency services for you if you have an accident, the only thing it leaves you to do is the driving.
And that's not all…
All 3 Series models also come with the new Intelligent Personal Assistant, which is basically BMW's version of Alexa. So, what does it do? Just like Alexa it learns and remembers your behaviour. The only difference is that you're not at home relaxing, you're in the car. It's perfect if you like to have the heating set at a certain temperature, but not so great if you're prone to yelling expletives at fellow drivers.

What's it like in the back?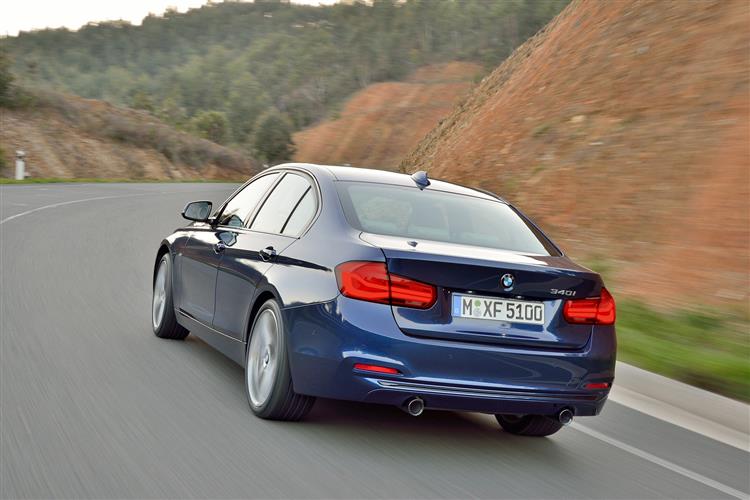 It's roomy and considerate for families.
The BMW 3 Series has a spacious interior which will comfortably fit three adults side-by-side with a decent amount of legroom.
And, it's accommodating if you've got a family…
There's plenty of space for car seats and there are ISOFIX points located on the outer rear seats.
Internal storage is also plentiful - another must for stashing those wipes, snacks, toys and emergency sweet bribes. There's also a handy central cubby and drink holders located on the side of each door.
What about the boot space? Well, it's not half bad! At 480-litres, it rivals its popular German counterpart, you know the one, it sounds like a popular German supermarket… does Audi ring a bell? If you want more boot space just fold back the seats, it's easy. But, if you're after an even larger boot, you can always opt for the BMW 3 Series Touring which has a whopping 1,500-litre boot capacity.

Start the engine
Once you're behind the wheel you'll quickly realise that the BMW 3 Series has undergone a serious makeover. That's right, it's not only had a face-lift, it's lighter on its feet too, it's lost an impressive 55kg! Can you let us know your diet plan BMW? This reduction in weight means the 3 Series is light to handle and superbly agile. It's also more aerodynamic and has tighter suspension, giving an altogether sportier driving experience.
Thanks to BMW's Efficient Dynamics technology, the 3 Series also offers leading fuel economy and low emissions alongside impressive performance. The entry level SE model can reach 0-62mph in just under nine seconds, whilst the M Sport Saloon needs a little over seven seconds. Who said you can't have your cake and eat it?
All manual models also come with six gears as standard and the automatics have an incredibly smooth eight-speed gearbox. You're guaranteed a quiet drive from all 3 Series models thanks to their standard fit of acoustic glazing.
We've got more good news…
Not only do you have the choice of a petrol or diesel engine, you'll also get to pick from a hybrid version which will be available later this year.

Our verdict
If you're after a sleek yet roomy executive car with plenty of extras, the BMW 3 Series certainly hits the mark. When it comes to speed, it's a serious performer, handling smoothly and confidently. But its light handling makes it a saloon car that can still offer a fun drive. And, if you're into your tech, it ticks all the boxes. What more could you want from a car?
Want to know more about leasing? Read our PCH leasing guide.
Got a question? We bet the answer is in our FAQs.
View our BMW 3 Series lease deals.
---